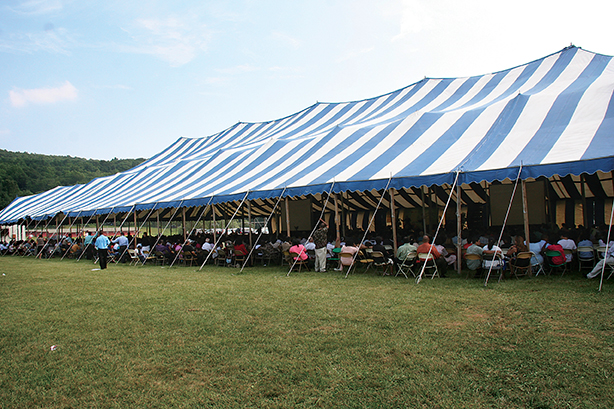 Camp meeting is an annual spiritual retreat for Seventh-day Adventist members and guests. It takes place during the summer—for a weekend, week, or even two weeks—and is hosted by each local conference within the Columbia Union. Seminars, inspirational speakers, music, the ABC book sale, and activities geared for children and teens are some of the highlights of camp meeting. Though the main camp meeting programs are conducted in English, many conferences also host camp meetings in Spanish and French.
Read our 2021 Guide to Columbia Union Camp Meetings.
Allegheny East Conference 
Location: Allegheny East Conference/Pine Forge Academy
237 Pine Forge Road, PO Box 266, Pine Forge, PA 19548
Telephone: (610) 326-4610
Contact Persons: LaTasha Hewitt, Colby Matlock, or J. Alfred Johnson, III
Directions: (From Washington, D.C.) Take I-95 North, to 202 North, to PA 100 North. Follow PA 100 North to Pottstown. Exit at King Street (663 North). Follow signs to campgrounds.
Allegheny West Conference 
Location: Allegheny West Conference Campground
6470 Oakthorpe Road, Thornville, OH 43076
Telephone: (740) 536-9127
Contact Person: Devon Blackwood
Directions: (From Washington, D.C.) Take I-70 East to Route 13 (Thornville exit) to Route 256. Turn right on Route 409 (Oakthorpe Road). Make left and go one mile to campgrounds.
Chesapeake Conference
Location: Highland View Academy, 10100 Academy Drive,
Hagerstown, MD 21740
Telephone: (443) 472-8381
Contact Persons: Sedley Johnson or Jennifer Stefan
Directions: (Approximately 1 1/2 hours from Baltimore/Washington, D.C.) Take I-70 West to Exit 35 (Route 66 Boonsboro/Smithsburg). Turn right toward Smithsburg for one mile to the roundabout at Mt. Aetna Road. Turn right on Mt. Aetna Road. Academy entrance is 1/4 mile on the right.
Mountain View Conference 
Location: Valley Vista Adventist Center, 532 Valley Vista Lane, Huttonsville, WV 26273
Telephone: (304) 335-2000
Contact Person: Valerie Morikone
Directions: (From Elkins, W.Va.) Take U.S. 219/250 South. Follow to Beverly, Mill Creek, and Huttonsville. At the Huttonsville Exxon station, make right onto U.S. 219. Valley Vista Adventist Center sign is two miles on the left. Make left onto Beckys Creek, cross bridge, and turn right on Becky's Creek Road. Watch for signs. Entrance is one mile across the bridge, on the right.
New Jersey Conference 
Location: Tranquil Valley Retreat Center
1 Campus Drive, Andover, NJ 07821 *for use with internet maps or GPS devices
Telephone: (609) 802-0850
Contact Person: Patricia Monteiro
Directions: (From South Jersey) Take Route 55 North to I-295 North for about 70 miles (after exit 67, I-95 South begins). Take Exit 4 (Route 31). Take Route 31 North for approximately one hour to Washington. In Washington take Route 57 North towards Hackettstown. In Hackettstown take Route 517 North. Camp is three miles north of I-80, on your right, behind Garden State Academy.
Ohio Conference 
Location: Mount Vernon Academy, Wooster and Fairgrounds Rd.,
Mount Vernon, OH 43050
Telephone: (740) 398-1230
Contact Person:
Directions: (From Columbus) Take Route 71 North to Exit 140 (Route 61). Turn left and go to blinking light. Turn right at light and follow Route 229 into Mount Vernon (around the square). Continue north on Route 3 for about two miles. At first blinking light, turn left. Mount Vernon Academy is on the right.
Pennsylvania Conference 
Location: Blue Mountain Academy, 2363 Mountain Rd.,
Hamburg, PA 19526
Telephone: (610) 562-9482
Contact Person(s): Locating office staff
Directions: (Approximately 1/2 hour from Reading) From I-78 and Highway 61, go north on Highway 61. Turn left onto Cabelas Drive. Make the first right onto Mountain Road. Go 2.2 miles on Mountain Road. Turn left onto the campus of Blue Mountain Academy.
Potomac Conference 
Location: Shenandoah Valley Academy, 243 West Lee Highway,
New Market, VA 22844
Telephone: (540) 886-0771
Contact Person: Candy Seibert
Directions: (From Washington, D.C.) Take I-81 to U.S. 211 (New Market, Va., Exit 164) At the stop sign take U.S. 211 West. Travel 1/2 mile. Shenandoah Valley Academy is on the right.