Story by Ausma Kinney
As I strapped my feet securely into the proper placement of my rowing machine, I prayed that God would guide my thoughts as I exercised. My husband had given me until the end of the day to come up with an answer as to where I thought our oldest, Jessa, should attend high school. We had looked at several schools over the years, and now that she was in eighth grade, we had to make a decision. I pondered over my own experience. Blue Mountain Academy had been a lifechanger for me.
As I rowed and prayed, thoughts of my academy days rolled around in my mind. What was it that I loved so much about my experience? What did Adventist academy offer that the day schools in our area did not? I thought of the many friendships that developed over my academy years with individuals that are now like family. I thought of the faculty who mentored me and helped me grow into the person I am today. Then it came to me. The work program. Most day schools don't have an on-campus work
program. I started out as a janitor, and then worked in the auto mechanics department before landing a job in the print shop. The skills I learned working in the print shop helped me, not only in college, but also in my future career as a graphic designer.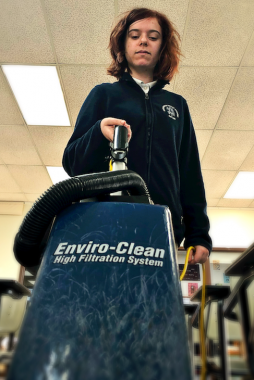 As I thanked God for giving me the insight about how valuable the work program was for me, my initial question still went unanswered. I asked God, "What academy do I send her to?" As soon as I asked, the answer hit me like a two-by-four to the back of the head. "Shenandoah Valley Academy (SVA). She was conceived there; bring her home." Fourteen years prior, my husband and I had been part of the SEEDS Conference hosted at SVA. It was at that time some friends of mine prayed for my womb, even though I said I wasn't ready to be a mother. But God has the best plans in store for us.
As I drove my daughter home from school on the last day of her freshman year at SVA, I asked her, "So what did you find most valuable from your first year of academy?" She answered, "The work program."
She was a janitor.