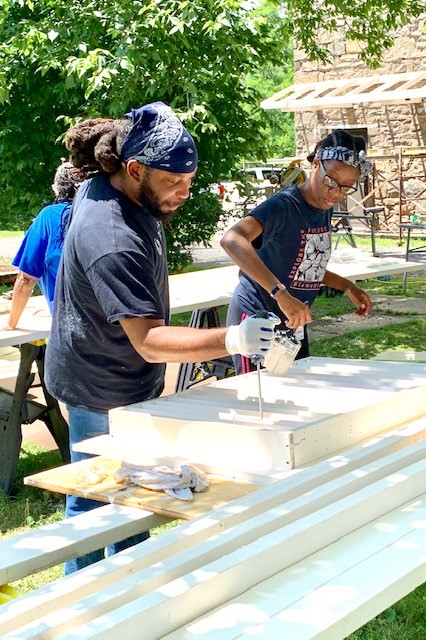 Story by Tracey Jackson
On your next tour of Pennsylvania, visit sites like Hopewell Furnace, the Daniel Boone Homestead and the Pine Forge Mansion & Industrial Site. And don't forget to visit the historic renovated North Hall, now the Pine Forge Academy (PFA) Music Conservatory, coordinated by Maranatha Volunteers International.
The National Pine Forge Academy Alumni Association sponsored the renovation of the building's exterior and interior, contributing more than $54,000 toward the proj- ect. Skilled Maranatha volunteers, along with PFA alumni and community members, worked diligently to maintain the historical integrity of the structure.
School board member Nicceta Davis ('72) expresses, "It was nice to get to work with individuals from different areas and backgrounds. Even though we didn't know each other, we worked well together as a team, sharing a common goal. It reminded me that we can finish God's work in these last days."
Many years ago, the building served as the girl's dormitory and school cafeteria. But because of one alumnus' vision and benevolent gift, it was graciously renovated in 1996 by the late Alphonso Mitchell ('58) and his wife, Phyllis.
Now, this edifice, that was constructed in 1750 and is on the National Register of Historic Places in Berks County, Pennsylvania, is reportedly the oldest building Maranatha has helped renovate. Today it serves as the student's music building, containing practice rooms for choral studies and private lessons in piano, voice and stringed and woodwind instruments.